My son finally convinced me to get a Spotify subscription and, after a month of using it, I have to say I'm in love. So far they've had everything I've searched for, including my new album "Parkers Picnic." There's plenty of free options in the digital age from the likes of YouTube, Pandora, and Spotify, but I've really enjoyed the added features of the subscription. But, I can't help but feel a little bit guilty that it takes around four thousand streams for an artist to make a single dollar on any one of these platforms. On the one hand, leveling the playing field has made it possible for people like me to share my music with the world instantly for almost no cost without the need of a distribution deal through a major record label. On the other hand, taking away a major revenue stream from artists big and small makes having a music career as anything other than a hobby much more difficult. Even for Indie artists that would burn their own CDs or tapes through the 90s, selling 5,000 units at $15 each out of the trunk of their car could generate some decent cash flow for someone just starting out. Now people almost expect it to be free. Do you have a YouTube page? Are you on Apple Music?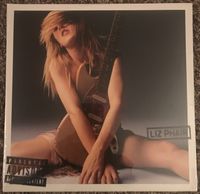 So, what do you do? Buy their music. I really enjoy vinyl. As a matter of fact I just bought Liz Phair's self titled album on vinyl. I haven't listened to it yet because I don't think my kids are ready for some of the content, but I will tomorrow! Depending on her record deal, she'll make probably $1-2 off of the sale (a lot of money goes to managers, producers, packaging, artwork, lawyers, cost recoupment by the label, etc) or the equivalent of me listening to it about 800 times, which I probably won't do. I also enjoy having physical artwork in my hand, the smell of new records, actively placing the vinyl on the turntable and flipping sides instead of just passively listening. The presentation of the music, the track order, the artwork, that's all thought out by someone - probably the artist. I heard James Hetfield of Metallica liken it to going into an art gallery. The paintings aren't just randomly placed on the walls. Someone had to sit back and think first this one, then the next, then this one over there. The same goes for the presentation of the music. Some artists are releasing their music on cassette and 8-track now, too! There's also CDs and flash drives and digital downloads. All of these things actually help the artist directly. More than just adding to your streaming playlist. 
Trying to be a minimalist and de-clutter and you don't want a bunch of records or CDs laying around? Many artists now have Patreon, Kickstarter, or GoFundMe pages where you can contribute money to them without necessarily getting anything in return. Sort of like giving them a tip just to encourage them to keep going. What else? Go to their shows, buy their merch, tell your friends, like their social media pages. If you'd pay $180 to see Beyonce but are asking your friend to save you the $5 cover charge, I'd ask you to reconsider. I know, I've done the same exact thing. I'm always looking for a bargain. But, when we know better we do better, right? And the singer/songwriter at the local coffee shop would really appreciate four or five people coughing up $15 for their CD, even though we all know it only costs $3 or less to manufacture and all the songs are already on their website to stream for free. That $60 can pay their cell phone bill for the month, and you've already spent that fifteen bucks plus tip on a round of drinks at the bar.
Which brings me to my last point. Where I live it's pretty common to tip at least a dollar per drink when ordering at the bar. Even pop and water. It takes the bartender about 30 seconds to pour you a drink, or grab that beer from the fridge and hand it to you, and their time is worth a dollar. Now, when someone spends years practicing their instrument, whether its guitar, bass, drums, voice, piano, banjo, you name it, and years writing music, then spends months recording, mixing, and producing it, finally releasing it, and you spend hours with that music in your headphones laughing, dancing, singing, crying, to it, what is their time worth? Even if you're already paying for Spotify, Amazon Unlimited, YouTube Red, or Apple Music, is it worth it to you to throw out an extra $10-20 to say, "Thank you. Can I have some more please?"