I haven't written a blog in seven years, but this one was over 20 years in the making and I've wondered whether or not I should post it. Well, here's to the weekend.
People often say things such as, "everything happens for a reason," "it's all just part of God's plan," or, "there's no such thing as coincidence." I recently saw a meme that said something to the effect of, "I know God will never give me more than I can handle, I just wish some days He didn't have so much faith in me." I am generally of the opinion that most things just happen because they happen and that there's no Grand Scheme. However, sometimes things are just too crazy to think they just happened for no reason at all. Which brings me to Pauline Luke.
REWIND TO 1994
Being an introvert, I generally don't have the "I'm up for anything" attitude. However, as a college freshman in a new city, Boston in this case, I knew that my best bet for making new friends in my first few weeks at school were to say "yes" when some guys that lived down the hall from me in the dorm at 150 Mass Ave asked if I wanted to go to the Sick and Twisted Film Festival next weekend. I don't remember the film festival as being so outrageous. If my memory serves me right I think they showed Beavis and Butthead's "Frog Baseball" and another film featuring a character named "No Neck Ned" or something like that. Anyway, I digress. So, there we were in line at the film festival waiting to get in, making small talk with each other and the people around us. Here's where things get a little hazy, so please forgive me if my facts aren't one hundred percent accurate, but at some point the topic came up, like it usually does when a bunch of college kids are mulling around, of what school everyone went to.
Me: "Berklee."
Girl: "Berklee? That's so cool [I made that part up] I'm going to a concert there in October."
Me: "Really, which one?"
Girl: "Al DiMeola!"
WHAT?!? Are you kidding me? The question I want to ask you, the reader, is if you have any idea of who Al DiMeola is. If you don't, go ahead and do a search for him on YouTube and Google and then come back to this in a couple of hours when you're finished. If you do know who Al DiMeola is then you understand how rare it would be to randomly be standing in line next to an 18 year old college girl that not only knows DiMeola's music, but bought a ticket to his concert that is happening in less than a month. If you know anything about Berklee and the type of people that go there, you also know how awesome it would be, especially as a guitar player, to run into said 18 year old college girl in your first month at school. Meet Pauline Luke.
Remember, we're in 1994. There are no smart phones. Email is basically non-existent. The only way to get a hold of someone is to either know their phone number or their parent's phone number. Also remember, I am an introvert. "Wow, that's awesome! I'll see you there." Ugh... No game... No game whatsoever...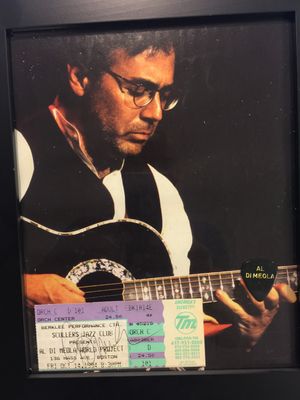 A few weeks later, there I am at the concert thinking, "hmm... I know she said she'd be here, but there's no sign of her." Just then, I hear "Hey Rick [I'll use my spelling from 1994]." I turn and look and who could it be? You guessed it, Pauline Luke. "Wow! So great to see you. Where are you sitting? Over there, awesome... Well hey, would you like to hang out sometime? Umm... Yeah, here, write your number down on this piece of paper and I'll call you..." Pauline writes down her name and number and hands it back.
The concert was great. Afterwards I didn't see Pauline, but I had her number, so it didn't matter. I actually waited out back for Al to leave so I could get an autograph. After about an hour or so there were only three of us left waiting so the security guard brought us backstage and introduced us to Al. I got his autograph on my concert ticket and he also gave me a guitar pick. What a night! I got a girl's number and I had the opportunity to meet a legendary guitarist. I was on cloud nine. Within the next few days I got the autograph and pick framed with a picture of DiMeola and hung it on my wall. It was a trophy, and I was proud to have it there. Now, what did I do with that number?
Are you kidding me? The number. Where was it? I looked everywhere. High and low. All of my pockets. Under my desk. In my guitar cases. In the trash. Everywhere. This can't be happening. I knew she went to Boston University, but there was no Facebook or Myspace, and there was like 50,000 people there. I ran into a couple of people that thought they might know her through a friend of a friend, but I never reconnected with her. When I say never, I mean never. Not once in college, not once after.
FAST FORWARD TO THE NEAR PRESENT DAY [about 5-10 years ago, but I don't really remember exactly]
I'm married, have a couple of kids and a dog, have been teaching guitar and performing with bands for years and years and years. I'm starting to let my private lesson business wane because I'm working at McNally Smith College of Music and I just don't have time to spend teaching private lessons at my studio down the street and maintain work/life balance at home. I decide to close up the studio and teach out of my house. My studio was a 10x10 room at Nechville Music Products. Tom Nechville makes the best banjos in the world. I'm just saying. Anyway, one wall of my studio was what I called my wall of fame. I had autographs from Dream Theater, Adrian Smith from Iron Maiden, Chick Corea, Bobby McFerrin, Tuck & Patti, Arturo Sandoval, and you guessed it - Al DiMeola. I took a lot of care taking each of those picture frames down from the wall, one by one. Placing them in a box, stacking them neatly so the glass wouldn't break, when all of a sudden - CRASH!
My Al DiMeola frame falls off the wall. Ugh. No broken glass. Good. The back just fell off. No problem. Grab the picture and put it back in the frame face down. Grab the pick, oh wait, the pick has to go in first, duh. Take out he picture and put in the pick. Grab the ticket. Autograph still looks good. Well, I need to turn it over face down so the front is touching the glass. Hold on, what's that on the back of the ticket?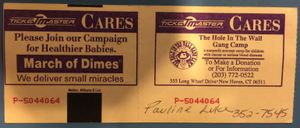 Is this some kind of cosmic joke? Or, is it just pure coincidence? Serendipity, or just a stroke of bad luck? Why was that the only frame to fall off the wall? Had it not fallen off the wall that day the question as to what happened to Pauline Luke's phone number would most likely still be unanswered. But why answer it at all? And why, after all these years, did I still remember the circumstances of this story? I recently searched her name on Facebook and I think I found her. I don't really think there's a whole lot I would say to her if we did talk again, I mean really I only knew her for about 5 minutes in college, so why does it even matter? But that's the strange thing, for some reason it does matter This was a huge event in my life. The first girl I got a number from in college, and then I lost it!  I bet most people don't remember the first number they got in college. So, maybe that's what makes this story so unique. I got the number and really did have every intention of calling, but shit happens. Maybe it was never meant to be. Maybe it's just part of God's plan. Maybe this event is the impetus for me writing more blog posts. Maybe. Maybe not.
In conclusion, all I really would like to say if I every were to talk to her again, if she even remembered me, is "sorry for not calling, but you will not believe what happened!"